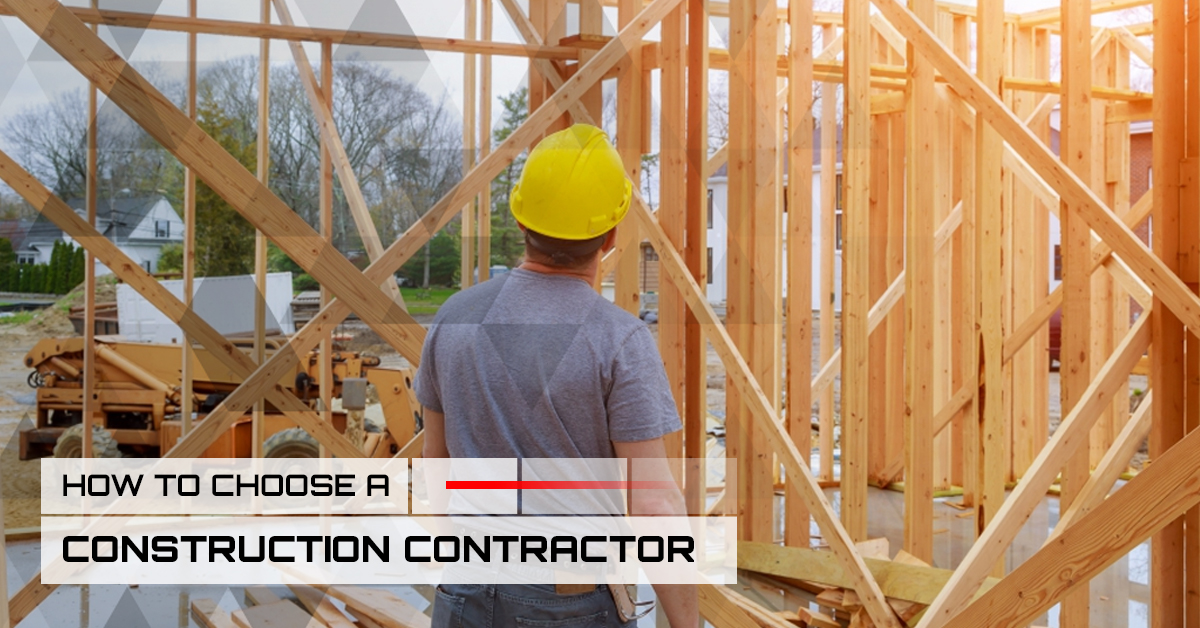 A construction project is a substantial undertaking. When choosing a construction contractor, it's important to take a number of factors into consideration to make the best decision for your project. It can seem difficult to make such a decision, as construction contractors seem to be very similar. They are all in the same business, right? What can possibly be so difficult about choosing the right one?
Like any industry, construction contractors run the gamut from barely able to hold a hammer to experienced professionals with decades of expertise and portfolios to prove it. Here at DBAC we pride ourselves on being one of the latter, and our dedication to our clientele is why we want to extend this resource to our customers — past, present and future. We want to make sure you have a good idea of what you're getting into when you decide on a construction contractor for your next project.
---

Given the amount of time and resources you're going to be putting into this project, it only makes sense to hire a construction contractor whose reputation stands on its own. Contractors who are worth their salt meet several criteria to ensure they are offering their clients nothing but the best. These criteria to determine if a construction contractor is reputable include:
Giving a Variety of Options and Alternatives

Plenty of contractors specialize in various types and styles of construction and building, from Tudor style homes to green commercial properties. Any reputable contractor, however, will have completed a wide variety of projects for you to peruse in order to gain confidence in their skills.

This not only ensures that your contractor is familiar with using different materials, substrates, tools and engineering skills but is adept at troubleshooting, making effective decisions and gets the job done efficiently and completely. It also demonstrates their knowledge of permitting and basic property requirements, commercial versus residential spaces, environmental regulations and restrictions, and more.
Understanding That Quality Comes First
It's great when work can be completed quickly, but a reputable contractor never sacrifices quality for speed. A job done poorly but quickly is simply a job waiting to be redone. A skilled construction contractor does the job to the highest quality standards possible the first time. Understanding that such a sacrifice — time for quality — will end up costing their business in the long run with upset clients, expensive repairs or further remodeling.
That being said, reputable contractors don't draw out projects unnecessarily. Quite simply, they're too busy! Reputable construction contractors are able to get work done effectively and efficiently. They also have to pay their crews, so don't be surprised if they come back with a higher estimate than you expect for a rush job. Expedited work requires more skills and, therefore, more resources.
Knowing How to Get the Job Done
A reputable construction contractor knows how to finish your project completely, professionally and in a timely manner. They know how to balance your budget against your desires and are able to accommodate their clients' needs surprisingly well. Whether this means creating extra office space piece-by-piece to keep the business going during the remodel or finishing the build on a commercial property in lightning speed, good contractors know how to make their clients' needs and desires mesh effectively. 
Getting the job done also means giving a solid, timely estimate in terms of the resources dedicated to the project. It's hard to have faith that the work being accomplished is up to snuff when the contractor is coming back to the client again and again requesting to push the time expectations out further and further. Good construction contractors know how to give a reasonable timeframe with their initial estimate. This may change as the project does, of course, but reputable contractors can figure out — and stick to — their initial estimates in terms of both time and budget.
---

Beyond these basic criteria that any reputable construction contractor will meet, there are a number of key reasons to hire an experienced and well-established construction contractor. Construction contractors provide a number of services that cannot be achieved merely by utilizing subcontractors and trying to keep them on task and on deadline yourself. Here are the reasons you should consider hiring an experienced, skilled construction contractor to oversee your project:
Reputable construction contractors have their own capital already secured for your project. What this means is that even if they have any issues with subcontractors disappearing before the work is done or threatening to do so if their pay demands aren't met, that's not going to threaten your project in any way. Experienced contractors have capital set aside to keep the work running smoothly in case anything like this does happen. They will keep your project running on time as well as on budget.

Licensing and insurance is an absolute must for any construction contractor; don't let anyone start any kind of work on your property without these key elements. Licensing with the designated board for their state, such as the State of California Department of Consumer Affairs

Contractors State License Board

, is crucial to ensuring that your contractor is operating legally in the state.
Construction contractors who know what they're doing have a wealth of building codes knowledge in their local area. By hiring a construction contractor for your project, you are ensuring that the subcontractors on the project will be effectively managed by someone who knows the building codes in your area and what is or is not going to pass inspection. Project owners are fantastic in their own right, but they generally can't look at the work of a subcontractor and know whether or not it'll pass inspection. A contractor can do that.
Reputable construction contractors have good relationships with the builders on your project. They command respect from subcontractors and suppliers because they have most likely worked together on previous projects. Even if they haven't worked together previously, there's almost an inherent respect that contractors get from builders because they walk their walk and talk their talk. They know the lingo, the expectations, what's doable and what isn't. Since subcontractors and suppliers want to jump onboard with

contractors who ensure that they can complete work

without interruption, are extremely knowledgeable, and make payments on time, it's worth it to find out what the relationships between your contractor and their subcontractors and suppliers is like. 
A solid construction contractor saves you time. They take full responsibility for setting the schedule of the project, including accommodating for anticipated setbacks and pitfalls. A good contractor under-promises and over-delivers when it comes to time concerns. They are able to quickly resolve any setbacks or issues that may occur and they keep the project running smoothly in spite of any time crunches or scheduling snafus. 

Finally, any contractor worth their salt is going to save you money. An esteemed construction contractor has the experience and the knowledge to do the job right the first time, without requiring that you spend more to redo the work. Additionally, subcontractors will typically charge more to work under a project owner or building owner than they do to work for a contractor. Finally, contractors have relationships with suppliers that owners do not, ensuring that they will be able to negotiate a lower cost of goods than the owner will. This means you'll have access to higher quality materials at lower prices when you utilize a construction contractor. 
A construction job that is done properly, with a construction contractor overseeing the work, will be one of high quality. Without an esteemed contractor running the show, quality, timeliness, and budget will all suffer. Your project may not pass inspection or building codes. And you could potentially lose considerable sums because you can't negotiate the best possible prices for labor and supplies. 

---

After going over the basics of how to choose and why to hire a reputable construction contractor, it's important that we touch on some of the top tips for finding the best of the best. A construction contractor who stands up to this kind of scrutiny is worth the time and effort it takes to find them. Your project is running you tens of thousands to millions of dollars or more, so it's worth it to fully assess all of your concerns and make sure your contractor fits the bill. 
---

Know Who Is Performing the Work
Any contractor who has a solid reputation with their subcontractors and knows who they are keeps them showing up for jobs again and again. Your contractor should be able to tell you who will be on the crews showing up to do the work. A trustworthy contractor also isn't going to hire subpar subcontractors and other laborers.
---

Insist on a Detailed Contract
Any worthwhile contractor isn't going to start work without one. A detailed contract protects your contractor as much as it protects their client. Conversely, stay away from anyone trying to work without a contract. You might end up liable for damages to property, people and more. 
---

Make Sure Your Contractor Is Licensed, Bonded and Insured
Reputable contractors will insist on making their licensing, bonding and insurance information available to you. This is another important protection for both their clients and themselves. Any contractor working without a license, bonding or insurance should be reported to the Contractors State License Board.
---

Choose a Contractor Who Works on Your Type of Project
If you're having a remodel done for your home, you want to get a contractor who works primarily in home remodels and redesign. If you're building or remodeling an office building, shopping center, or other commercial property, you want to get a contractor who specializes in commercial construction. While they can technically do both and some companies claim their versatility at managing both types of projects, there are enough differences that a home remodel would be best constructed by a residential contractor and a shopping center by a commercial contractor. 
---

Check on Their Lien Status
According to mechanic's lien laws in the State of California, people who work on or supply materials to your project and don't get paid for it can file a lien on your home. This means that you may end up liable for that payment even if you already paid your contractor for it, if your contractor shirks on paying those bills. A good way to determine whether this may affect you is to check on their legal status in terms of their payments on past projects. If they still owe $30K from their last job, for instance, chances are that's what your job will be paying for. If a contractor does have a lien against them, it's best to move forward to evaluating another contractor for your job.
---

Go With a Local Construction Contractor
Simply, a local construction contractor is the most well-versed in local legislature and regulations around building and construction, and can advise you best on your project based on their knowledge and experience. This can save you from a lot of undue hassles down the road as your project is progressing.
---

Look At Work Samples
Any construction contractor worth consideration will happily supply you with a portfolio of their past work. Many also have previous clients willing to give referrals to them because of their satisfaction with their work.
---

Understand Your Part
You may have to move things from one place or another to create "swing spaces" for crews to work in while still working out of your space, or go without certain facilities for a time. A good contractor will let you know upfront what they will need from you to complete a job effectively and efficiently. 
---

Work Together on Guidelines
You may have very specific requirements of conducting your business that don't support subcontractors and builders entering and exiting your property all the time. A good contractor knows this and will work with you to make sure nobody is stepping on each other's toes (or doing so as gently as possible.)
---

Go With Your Gut
Intuition is an amazing thing. When you rely on your own instincts while evaluating a contractor, you not only will probably choose the best contractor, but you'll feel comfortable with them heading up your project. Make sure you have a good gut feeling before starting negotiations on your project with anyone. 
---

At DBAC, we stick to the fundamentals of Design, Build and Consult to maximize the options that we can offer to our clientele. That being said, those fundamentals cover an incredibly broad scope! As our past clients can attest, we bring meticulous care and concern to each and every one of our projects:
Orange County Sheriff's Department
 "DBAC did an amazing job in constructing our Sheriff's Station in Lake Forest. It's no small undertaking to convert a commercial building to a public safety facility. Their craftsmanship was excellent, they stuck to their timeline, and they were very helpful with the necessary changes as the project progressed."
Applied Medical
"DBaC performs above our very high expectations and does things for us that no other general contractor would do. We continue to value them as our contractor of choice."
Hurley
"I saw John the other day and told him I thought DBaC did a tremendous job for us in an impossible situation and timeframe. But now that we have used other GC's I said we were spoiled. No one is as good."
Motorcycle Industry Council
"The supervision team for our recent tenant improvement were both the most professional, accommodating, creative and top shelf individuals I have come to know. You are fortunate to have them in your employ and we at the Motorcycle Industry Council are privileged to have them handling our remodel.What I like the most about them is their can do attitude … there is nothing they cannot or will not do to get the job done right. Their attention to detail is exceptional and something I truly value and personally embrace. I have very high standards when it comes to the overall quality of the work and the overall finished product and both of these gentlemen constantly work toward that end. No matter how trivial my request is to change something or do something different they get it done with a smile." Joe DiCorpo, Motorcycle Industry Council."
La Jolla Group
 "Now that some time has passed we see we put DBaC in a tough position, making it nearly impossible for them to succeed – yet they not only succeeded they excelled. We love our space and would use DBaC whenever we possibly could."
We hope that you feel better about choosing and hiring a contractor at this point. Construction contractors may be a dime a dozen, but reputable ones are sometimes a diamond in the rough. At DBAC, ee pride ourselves on being amongst the diamonds. Contact us today to discuss your newest project or to get an estimate. We look forward to working with you.