This year, Phil the groundhog emerged from his den in Punxsutawney Pennsylvania and decided that Spring would be coming early! This US tradition is by far one of the strangest we have in the country but that doesn't mean we shouldn't celebrate our good fortune. Spring is a time of new beginnings and life and we at DBaC look forward to what our Spring has in store for us this year. New beginnings could mean office relocation for some companies or maybe just a fresh new look in your existing space. Either way, let us help you build your dream office, guaranteed on time and under budget! This month we would like to show you a fresh new office build out in Aliso Viejo and say thanks to the Superintendent who ran the job.
Preston Ventures is a 7500 sf space that was completely demo'd and rebuilt from shell condition.  This new modern space features polished concrete floors, exposed and painted ceiling spaces with circular pendant lighting, spacious break area with adjacent lounge seating area.  Other features of this office area are idea paint on multiple walls in offices and open areas to allow for team collaboration sessions.  Offices feature full height frameless glass along the perimeter to bring in the maximum amount of outdoor light and allow for the best views of the recently renovated exterior entry and patio area.  This project was completed in 14 weeks without delays.  Cost for the Tenant Improvements came in at about $100/sf. Both the property manager and the tenant were happy throughout the duration of the project because we maintained our DBaC standards, keeping the jobsite clean and safe. This often overlooked part of our work is vital for the trades contracted to build the space as well as visitors checking in periodically. A safe work environment is a productive work environment and helps reduce the possibility of delays. Overseeing the cleanliness and safety of the job rests on the shoulders of the Superintendent, in this case Paul Cernich.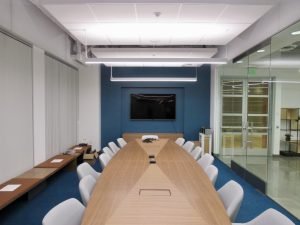 Paul has been a Superintendent with us at DBaC since for over 26 years and now serves as one of our Senior Superintendents working on our toughest projects. Part of being a Senior Superintendent, his job is to train the less experienced Super's on how to run a safe and efficient job site. He has worked with dozens of Assistant Super's over the years and his knowledge of all things construction is extremely valuable. He takes his job very seriously but has a great sense of humor and connects well with other people, making him a good "coach" to the Superintendents he helps train. Paul lives in Laguna Beach with his wife, son and their Goldendoodle, Winston. Paul also has an adult daughter who lives in Orange County. When he isn't with his family, you can find Paul in the water at one of the many surf breaks in Laguna. He is a member of the Laguna Beach Boardriders Surf Club 50 and Older Division, and he competes in the VISSLA Cosmic Creek surf festival at Salt Creek every year. He is currently working on the Wild Goose Remodel on 17th St in Costa Mesa, you'll probably see him running traffic control! Thank you for everything you do for us Paul!