With Pumpkin Spice season in full swing, we prep for cooler weather and are breaking out our "winter clothes" here in Orange County. Of course, our winter clothes are only jeans and a jacket but that still counts, right?  Southern California is known for its warm/moderate climate, and it's this type of weather that keep us in the construction industry happy. Minimal rain delays help us maintain our schedule to make sure our clients get the final product they deserve on time! With the upcoming holidays on the horizon, we at DBAC would like to "give thanks" to the Boys and Girls Club of Central Orange County and one of our Superintendents that helped make it possible.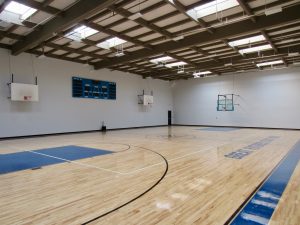 Over the summer, we were able to be a part of three different remodels for the Boys and Girls Club, renovating their sites in Costa Mesa, Newport Beach and Irvine. The money for the projects was raised from dozens of benefactors, totaling over $7.1 million in donations! This generous donation from the community is going straight back to the kids of Orange County and we at DBAC could not be happier for them. With state-of-the-art kitchens, 3D printers, interactive projectors, and new robotics technology in each of the sites, our future leaders can get the tools they need to succeed in an environment that promotes adaptation and creative growth.  The teen centers in the Costa Mesa and Irvine locations provide tools and one on one sessions with counselors to help them make the right decisions moving forward with their education. The newly renovated gyms in all 3 sites are a safe area for our community youth to exercise and practice healthy lifestyles. CEO of the Boys and Girls Club of Central Orange County, Robert Santana, worked with us every step of the way, sharing our goal of creating something truly special for our community. We want to thank Robert, and everyone at the Boys and Girls Club, for being such awesome clients and continuing to help make our future a better place!
Since April, Darren Cox has been our on-site Superintendent at the Boys and Girls Club of Irvine. This particular project was special because it was a 3-phase project and was partly occupied while construction was ongoing. Darren was responsible for coordinating with the occupants of the building and his construction crew daily to ensure everyone was in as safe an environment as possible. Not only that, he had to keep his project on schedule to make sure the kids would have somewhere to go once school started back up. He is one of our best at making sure there are no loose ends at the end of projects, and this was one of the many reasons he was chosen to run this complex project.  Thank you for all your hard work Darren!